Despite Halloween is celebrated on the 31st of October, a lot of people all around the world began to celebrate this holiday at great parties beforehand. Celebrities are no different. Let's check out the best celebs Halloween parties!
Casamigos Halloween Party
Celebs started to celebrate Halloween 2018 the weekend before this holiday. New York, Los Angeles and Las Vegas gathered many famous people at shindigs. It was worth seeing!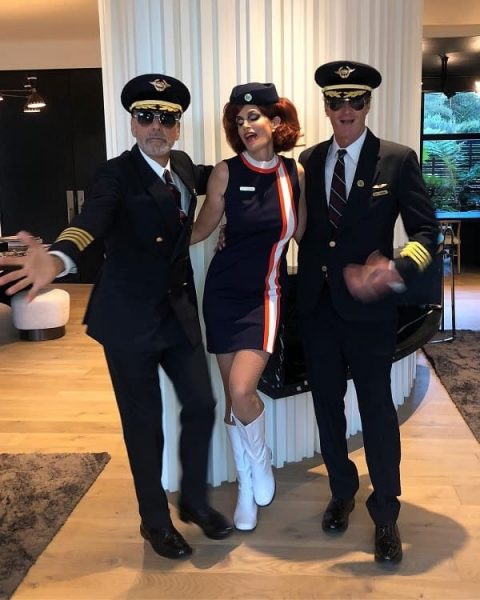 One of such celebs Halloween parties became Casamigos Halloween Party held in Beverly Hills, Los Angeles. It was attended by the legends of cinematography and the fashion industry such as Cindy Crawford and her husband Rande Gerber, their grown-up children Kaya and Presley Gerber, Paris and Nicky Hilton, Nina Dobrev, Olivia Mann, Zoe Kravitz and many more.
As always, the costumes of the celebrities were quite original. A trio – Cindy Crawford, her husband and an actor George Clooney – alone is enough to realize the coolness of that shindig. They dressed themselves in the uniform of a stewardess and pilots.
Cindy did a great job with her suit. No wonder, because she was attending one of the best celebs Halloween parties. Apart from a wonderful costume, she added a bright makeup, a wig, fishnets and white high-heeled lacquer boots to her image. Pity George's wife didn't visit this party, since she would look nice in the role of an air hostess.
Nina Dobrev surprised an audience no less. She appeared in the image of a newborn. Or rather, wearing a costume-parody of the premiere of Lady Gaga and Bradley Cooper's "A star is born".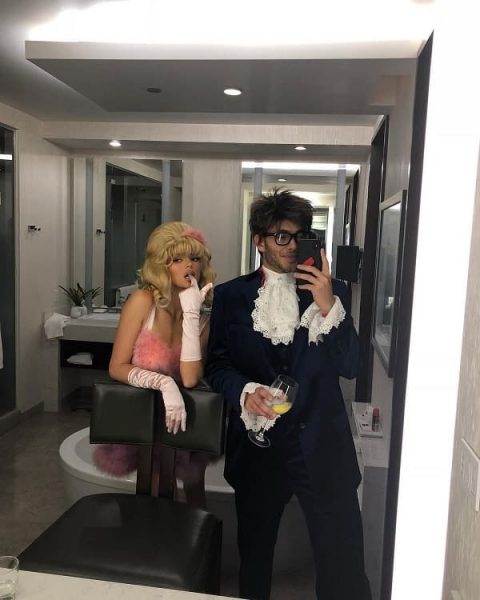 A model, Kendall Jenner came to the party wearing a pink négligée. She obviously wanted to turn into a heroine Fembot from a movie "Austin Power". And she succeeded. It was one of the sexiest female celebrity Halloween costumes of 2018.
Zoë Kravitz changed into a vampire hung-over. In that outfit, Zoe resembled one of the drunken witches. She was wearing a robe, held a cup of coffee and a newspaper.
Olivia Mann dressed up as Goh Peik Lin – a heroine of a spectacular recently released movie, Crazy Rich Asians.
On the occasion of Halloween, Rita Ora transitioned. The singer changed into a rapper Post Malone, who had become famous for his tattooed face.
A supermodel Karolina Kurkova probably slightly misunderstood the atmosphere of the evening and showed up at the event wearing a black suit and a top hat on her head. Perhaps, she wanted to turn herself into the image of Draсula, but it wasn't impressive enough.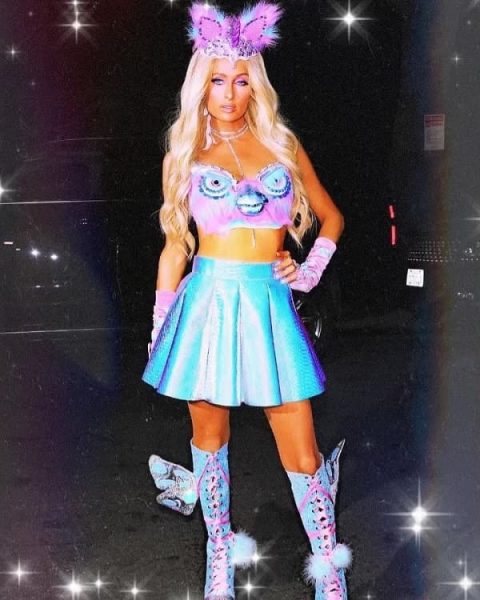 The image of Paris Hilton remained a mystery. She looked like a fairy tale character or something.
Nicky Hilton chose the image of her sister Paris. It looks like she hadn't bothered with preparation for celebs Halloween parties. She was wearing one of the most recognized outfits of her famous sister.

Follow us on Facebook

Subscribe to our Pinterest

Watch our YouTube videos
Both sisters Hilton are quite strange women who don't probably make sense of Halloween.
V Magazine party and Kate Hudson's event
With regard to V Magazine Halloween party, it's worth mentioning here Lily-Rose Depp. The model came to the party wearing a costume of a sexy lion tamer.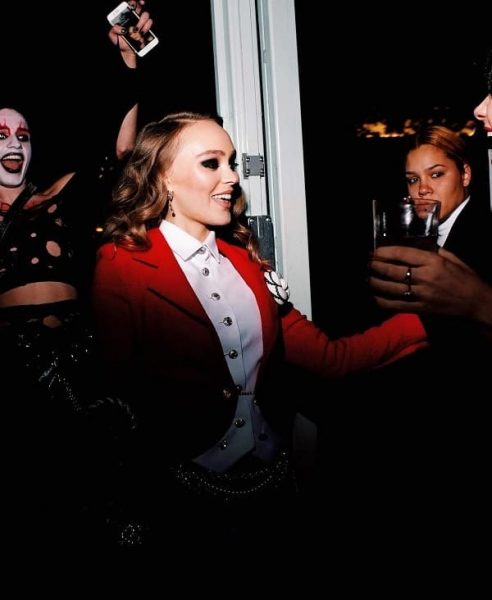 At another traditional party arranged by Kate Hudson, celebrities also pleased the public with amusing and pretentious outfits.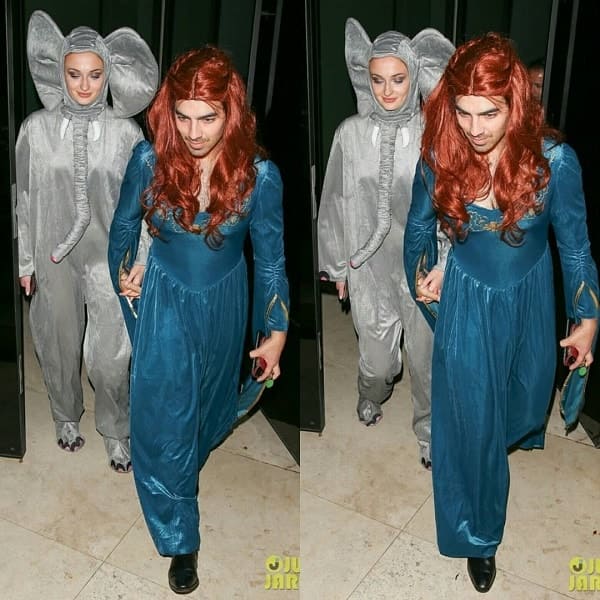 For example, a singer Joe Jonas appeared at the event wearing the costume of a character Sansa Stark from the show "Game of Thrones". By the way, that role had been played by his bride Sophie Turner, who also decided to join one of the coolest celebs Halloween parties. She came to the event wearing the costume of an elephant.
Jessica Alba together with her friend named Kelly Sawyer dressed up as the heroes of The Flintstones cartoon show.
Heidi Klum's party (an event which confirmed the status of celebs Halloween parties trendsetter)
Heidi Klum has been confirming the title of a Halloween Queen from year to year and raising the bar for those who try to compete with her. This time she deployed her boyfriend – a 29-year-old musician Tom Kaulitz and showed up at her own party in the incredible image of Princess Fiona holding hands with Shrek. It ranks among the most amazing celebrity Halloween outfits of this year.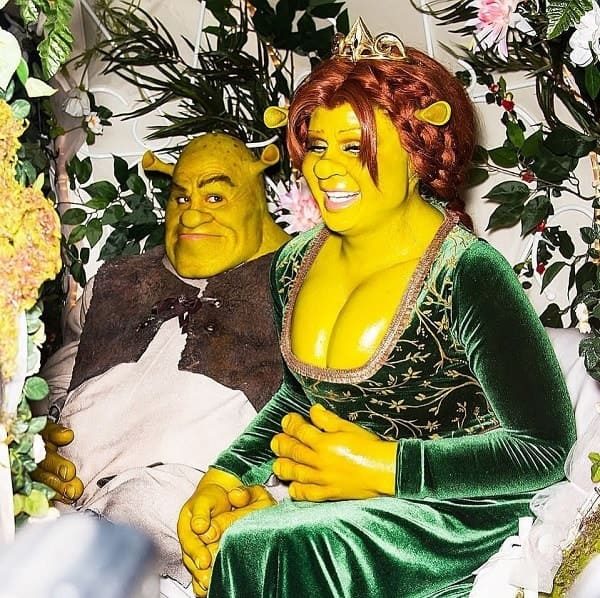 Heidi herself organizes a Halloween party for the 19th time. The model and the musician came to the event in a fairy-tale carriage. But they were not alone. The couple took a baby carriage with little baby-monsters with them.
The 45-year-old model arranges her own party annually in order to showcase her imagination and creative. Her Halloween characters and outfits have been considered the most well-thought-out and sophisticated for decades. Long hours of preparation, kilograms of a plastic makeup are aimed to make people talk about her the following day.
Let us remind that last year, Klum chose a terrifying costume from a legendary Michael Jackson's music video for Thriller. And further back, she appeared in the images of Jessica Rabbit and an old lady.
Klum invited a lot of other celebs for her Halloween shindig. At Heidi's party, many celebs also seized the opportunity to shine.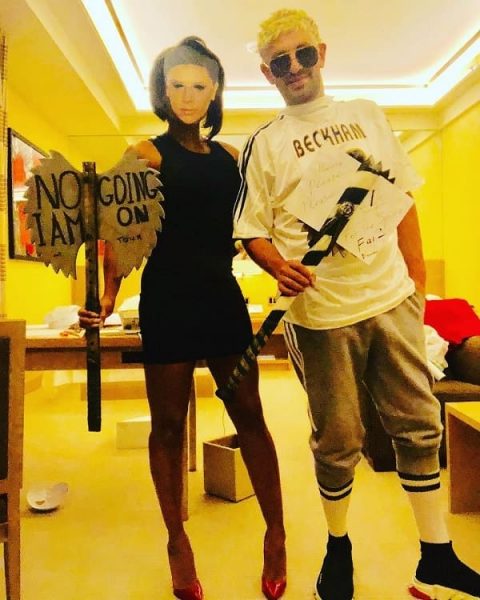 For example, Mel B appeared at the event wearing a mask of Victoria Beckham and a sign saying "No, I won't go on tour" and her companion came there in the image of David Beckham holding a plaque "Please, do it for the fans of Spice Girls".
Maybe, at least, this trolling will make Victoria change her mind and join her former colleagues, after all.
Kardashians' Halloween fashion show in the streets of Los Angeles
The Kardashians arranged one of the most unusual celebs Halloween parties in public this year.
You haven't probably seen such "angels" on the runway of Victoria's Secret underwear showcase yet. The Kardashians surprised an audience again, having appeared on the catwalk in the images of famous brand's "models".
True, they demonstrated rather their curves than underwear. And all that took place on Halloween. While other celebrities, dressing up and putting on a makeup, competed to find out whose Halloween costume is the most frightening and unique, Kim, Khloe, Kylie, Courtney and Kendall, in contrast, undressed.
Thus, in honor of Halloween and in the run-up to the Victoria's Secret Show the Kardashians turned into the angels of a podium, by putting on lingerie with lace and lurex, in order to walk down the streets of Los Angeles. Also, they didn't forget about wings.
As it turned out, the girls put on real Victoria's Secret costumes, which were kindly provided by the famous company. That's a very generous gift!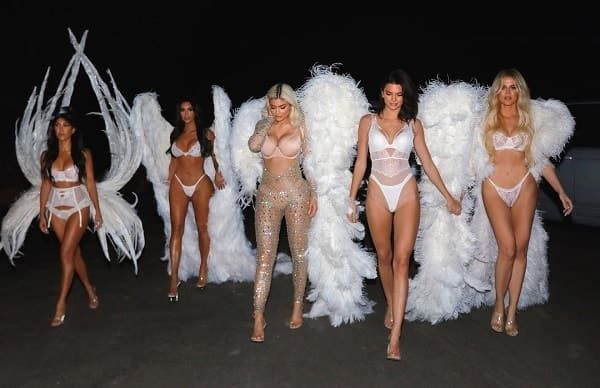 Kim reported it on her Instagram: "I'm thankful to Victoria's Secret for giving us real wings for the evening. My God, dreams come true! We'll become angels for one evening."
The sisters demonstrated their body shapes, posing for the cameras of photographers. Later, the users of social networks took particular note of Kim's body who had lost 10 kilos, as well as Khloe and Kylie who had become mothers several months before that.
However, it should be noted that Kylie Jenner's costume was most likely a custom-made, since the girl has quite thick thighs which would probably not be appropriate for Victoria's Secret Models.
Admirers were delighted with the sisters' transformation. "This is the best idea for celebs dressed for Halloween", "You are our angels."
That's what they commented on the images of the stars.