They are on TV displays, on cinema screens, on the scenes of concert halls. Isn't it enough for them? Let's find out which of the female celebs succeeded in enlisting Instagram followers.

10. Miley Cyrus (75.7 million subscribers)
She is the first woman who made it to our list of female celebs on Instagram.
Miley once dropped out of school in order to concentrate on her career as an actress and a musician. Nevertheless, she doesn't completely renounce the idea of pursuing higher education.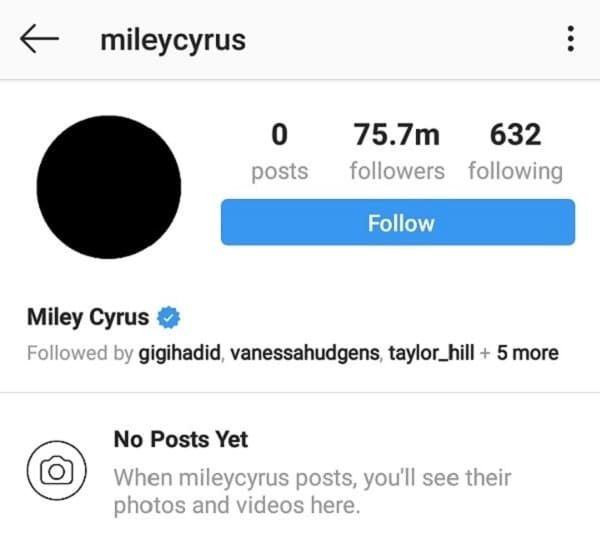 "I firmly believe that it's possible to return to studies at any age, because my grandmother went to college at the age of 62," says Miley. By the way, she got a tattoo depicting the portrait of her grandmother on her arm.
Miley made her first money by helping her father – a famous country singer Billy Ray Cyrus – on his tours. He paid her 10 dollars for picking up underwear off the stage. Billy Ray's groupies wishing to have sex with him threw their lingerie on the scene, and Miley carried it away.
Actually, she has removed all her publications and a profile picture from her Instagram. The same fate befell her official website and Twitter. Miley's admirers wonder what she is planning. Maybe, she is preparing us for her makeover or a new cool collaboration?
9. Khloé Kardashian (81.1 million subscribers)
This celebrity actively combats excess weight. Quite successfully, as it turns out. Of course, she doesn't rank among famous female Instagram models, but the pictures of her female body on Instagram demonstrate an astonishing result.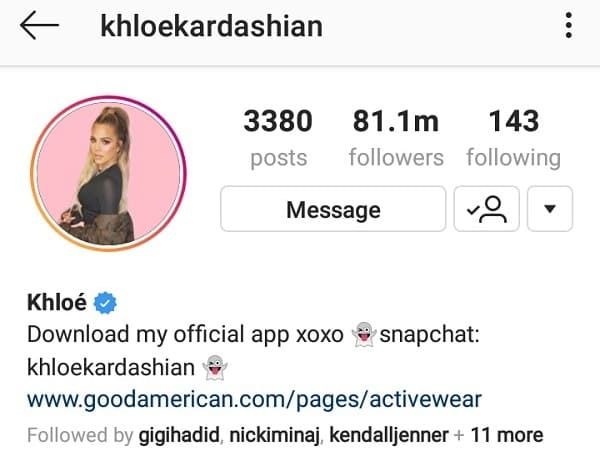 Since early childhood, Khloe has stood out because she looked massive in comparison with her graceful and fragile sisters. It resulted in constant ridicule and criticism. However, that didn't affect Khloe's self-esteem.
After her father's death in 2003 Khloe was diagnosed with the oncological disease of skin which she totally overcame by 2017.
Khloe is committed to an eco-friendly lifestyle and mentality, including business issues. In 2009 the girl developed and put toothpaste based on the natural compounds on sale in cooperation with her sisters and The Association of Natural Products.
8. Nicki Minaj (93.9 million subscribers)
When Nicki Minaj swelled the ranks of female celebs on Instagram, she once published in this social network a series of images where she was wearing a too skimpy latex outfit. It caused a deluge of criticism from her followers on Instagram, since her pink outfit made of latex barely covered Nicki's bust.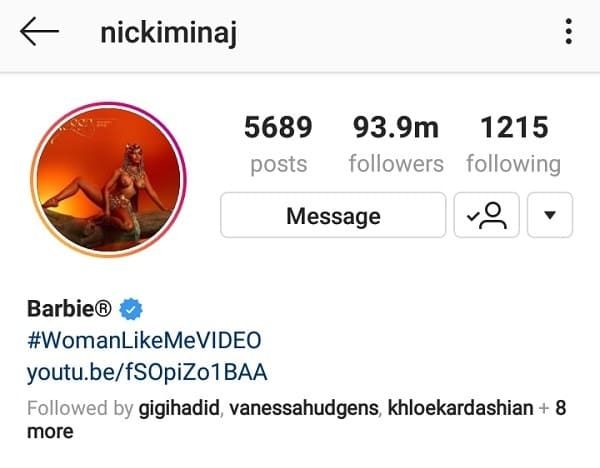 Even at Drake's concert in Paris, she appeared on the stage looking like that.
Minaj became the first singer in history whose 7 songs simultaneously were in the Billboard Hot 100 chart.
Onika Tanya Maraj (her real name) was born in the family of an Indo-African and a Malaysian. Her father was an alcoholic and a drug addict. He often abused his wife, and one day even set their house on fire.
Suffering from the endless arguing of her parents, the girl was away from home for long. Sometimes she sat in a car for hours, writing lyrics. The family problems had a significant influence on the formation of Nicki's personality.

Follow us on Facebook

Subscribe to our Pinterest

Watch our YouTube videos
7. Kendall Jenner (96.9 million subscribers)
If you are a Kim Kardashian' stepsister, your mother is a socialite, and your stepfather is an Olympic champion, it's not surprising that one day you will join the list of female Instagram stars and attract much attention to your account.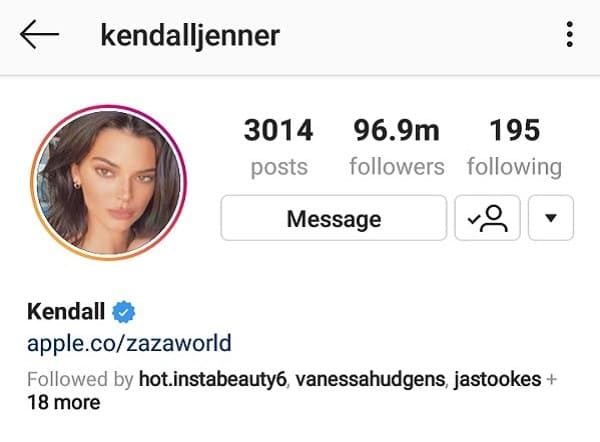 Kendall became a model when she was 13. A year later she already was shot almost naked. It aroused an interest to the young model. Her career as a model rapidly took off and Kendall dropped out of school. She was homeschooled in her off hours. That's why her education leaves much to be desired, but it doesn't prevent Kendall from making millions of dollars at all.
Apart from modeling she is engaged in fashion design, tries herself in the role of a writer and gives to charity.
When she had 70 million subscribers on Instagram, she deleted her account, but then came back.
6. Taylor Swift (112 million subscribers)
This blonde is also the owner of female daily Instagram. Taylor Swift's Instagram posts are remarkable for their liveliness and the absence of any glamour, despite it's quite common for such celebs. On her Instagram, the girl remains as open and sincere as she is in music.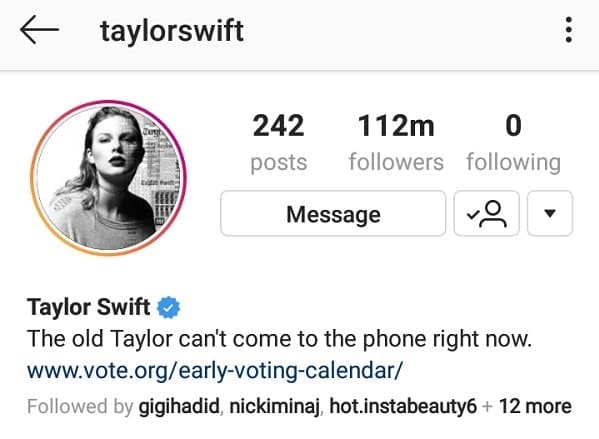 Her mother named her daughter Taylor because she liked the idea that, hearing this name, it was not clear who its owner is, a man or a woman.
Swift is extremely embarrassed about her eyes. The singer is confident that they are too small and featureless. Nevertheless, she isn't worried about her legs and knows their value – literally. Two years ago Swift insured 40 million dollars for her legs.
In 2016 Taylor turned out to be the highest-paid singer of the year. She earned a profit of 170 million dollars.
Taylor has poor eyesight. As a rule, she wears contact lenses.
5. Kylie Jenner (117 million subscribers)
Kylie is a famous American model and a participant in a popular show demonstrating the life of the Kardashian family. Also, she is one of female celebs on Instagram who keeps pace with female Instagram fashion.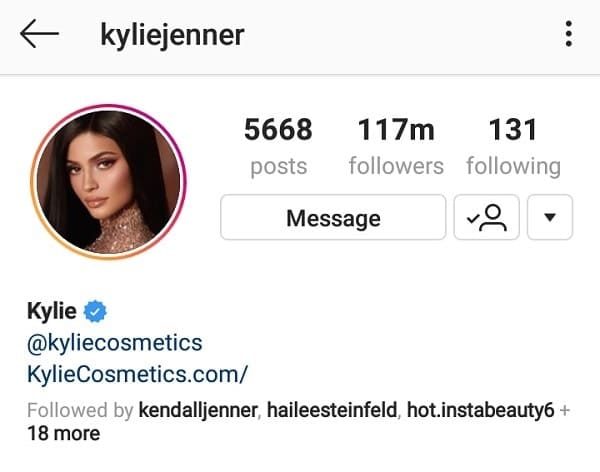 In an interview the girl confessed that she didn't remember the time when she had remained outside the media limelight. This is not surprising since the show about Kardashians started when Kylie was only 9.
In 2012 Kylie together with Kendall Jenner created their fashion brand called PacSun which is very popular to this very day.
Wanna dating an American woman? 11 weird facts you must know!
Interestingly, Kylie became acquainted with her former father Caitlyn (an American TV-star, an Olympic champion in athletics and a U.S. national hero who is a transgender person at present) via FaceTime application.
4. Kim Kardashian (119 million subscribers)
Kim has won great recognition on social networks and took her deserved place in the rows of female celebs on Instagram. The beauty is so partial to a mobile photo shoot and selfie that she has even issued the compilation of the best photos as a separate printed publication! And her admirers not only click the "Like" button, but also buy the album printed on paper.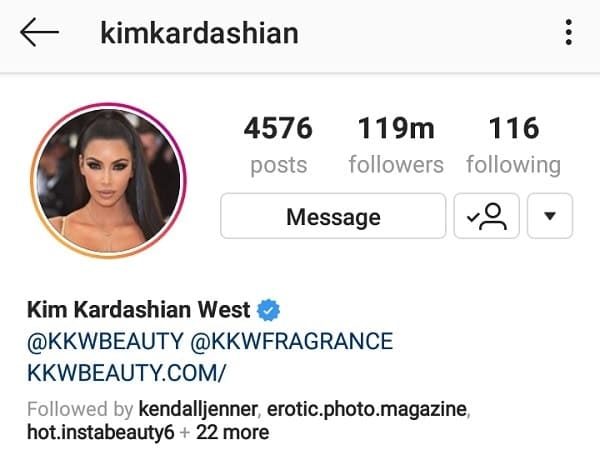 Interestingly, every morning, Kim likes to crepitate with her knuckles. Kim has a spot on her eyeball and a black dot on her forehead, which is often mistaken for a pimple. Kardashian has tried to remove it three times already, but to no avail.
It may seem strange, but Kim's eyes are half-opened when she sleeps which, in her words, often scares people.
She always takes her pillow and blanket on a trip, even on a plane.
Kim knows sign language. When at school, she used it to make prompts during the test.
3. Beyoncé (119 million subscribers)
This singer is also the owner of a popular female lifestyle Instagram.
She is almost a record holder on the number of received charges of plagiarism. In this, she doesn't copy, but steals (as some people say). For example, the premiere of her "Run the world" became the exact replica of an Italian dancer's Lorella Cuccarini performance.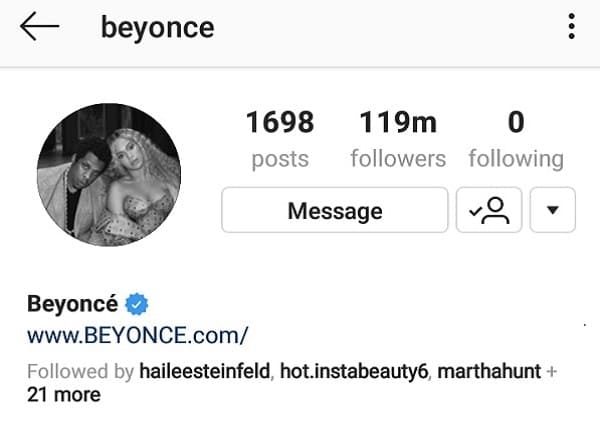 It may come as a surprise, but in an effort to make Beyonce a star, her father Matthew Knowles overstepped reasonable boundaries. He made her run 5 km a day, so that she could sing and dance with ease simultaneously.
By the way, she fired her father from the post of her manager because he had stolen her fees.
Beyoncé once performed at the party of a Libyan dictator, Muammar al-Qaddafi's son. She was forced to apologize for that afterwards.
In 2011 the singer was suspected of imitating her pregnancy, since during her daughter's childbirth one Ingrid Jackson was registered in a New York clinic who was rumored to be a surrogate mother.
2. Ariana Grande (132 million subscribers)
The celebrity started her career in a Broadway musical, after which she turned out on the set of "Victorious" broadcasted by Nickelodeon channel.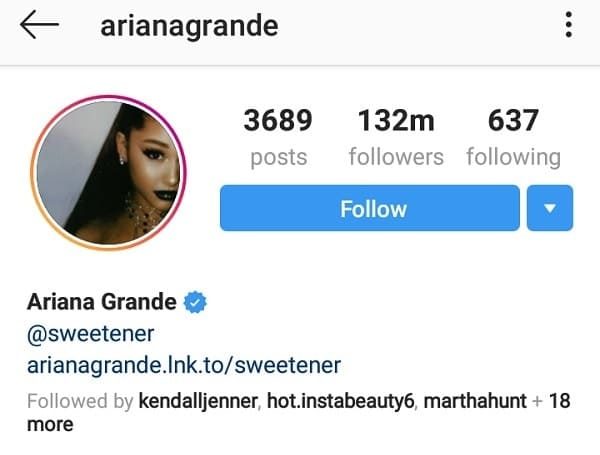 As a 2-year-old baby, Ariana hit her elder brother with a telephone and broke his nose.
She once performed in the White House at the invitation of Barack Obama. Most likely, it happened at the initiative of the President's daughters.
TOP-10 hottest plus-size models — you haven't seen anyone more sexy!
It's amusing that the singer stopped visiting the Catholic Church after the statement of Pope Benedict, who called working women and homosexuals sinners.
Ariana ranks among female celebs on Instagram.
Interestingly, her Instagram has 2 times more subscribers than her Twitter, but she somehow pays more attention to Twitter and believes it the best social network.
1. Selena Gomez (144 million subscribers)
The brunette was born when her mother was only 16. Five years later, her parents divorced.
Her career as a TV-star started in 2001 on the show Barney & Friends. Selena has got 6 dogs. Two of them she got from a rescue shelter.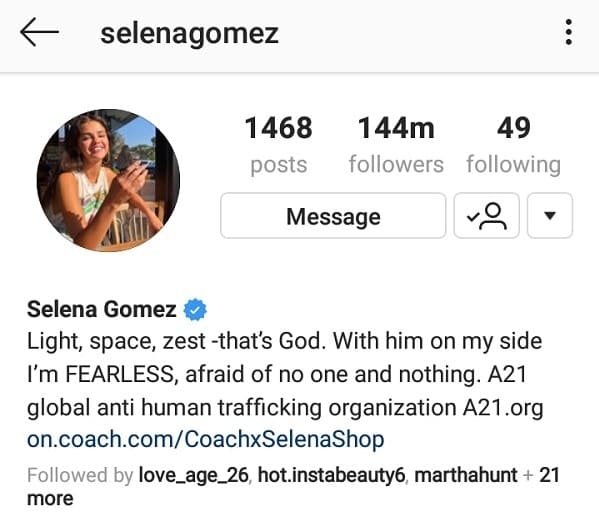 She adores salty food and dreams of getting a chewing gum with flavor of brine.
In 2009 Gomez became the youngest UNICEF ambassador.
Where the Most Beautiful Latina Women Live: TOP-10 Countries
Selena had systemic lupus erythematosus. She was at risk for stroke, that's why she had to start the course of chemotherapy, twice. But it didn't work, and the doctors were forced to do a kidney transplant. A 29-year-old Selena's friend, Francia Raisa became her donor.
With regard to her female luxury Instagram, Selena is a record holder for a number of "likes" for the post on this social network within a certain time. Her image with a bottle of Coca-Cola gathered 4 million "likes" in two weeks.
The singer is paid 500 000 dollars for one advertising post on Instagram.