In sport, even for beautiful female athletes, nice look is not important, unlike strength, agility and endurance. Nevertheless, many sportswomen of the world are real beauties, and it is impossible to take your eyes off of them. And this is not surprising, as sporting activities are known to help keep the body toned and in good shape.
1. Anna Kournikova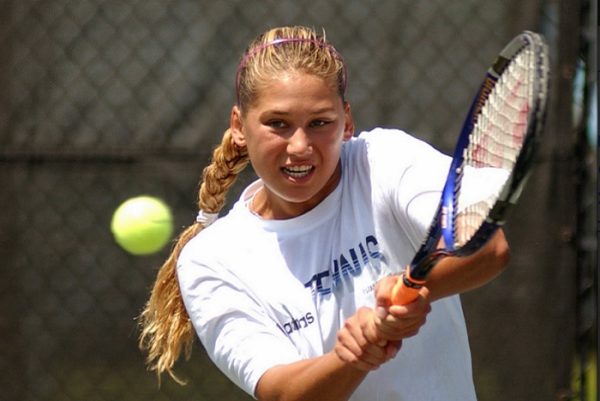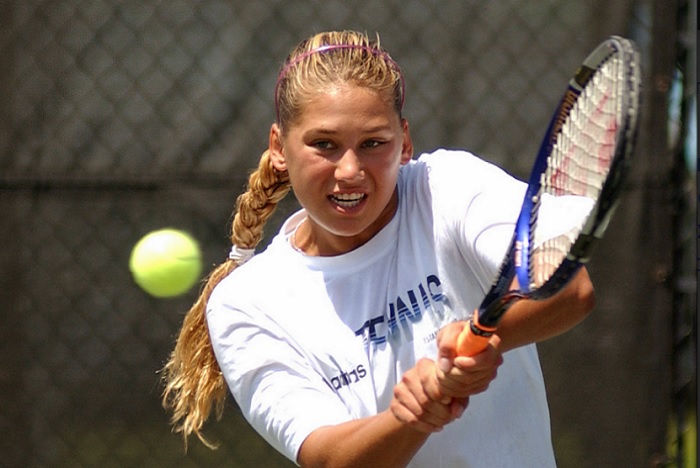 The famous tennis player was brought up in the family of professional athletes: her father was engaged in wrestling, and her mother worked as a tennis coach. The girl was introduced to big sports when she was 5 years old. At first, she was engaged in tennis in "Sokolniki" Palace of Sports in Moscow, then she transferred to "Sparta" club.
Beijing-2022: TOP-10 most beautiful women athletes of the Winter Olympics
At the age of 14 she managed to win the Junior Unofficial World Tennis Championships. Larger victories followed.
A severe back injury forced Anna to retire from tennis forever in 2003. In her short career, she managed to earn over $3,000,000.
Not surprisingly, Anna's beauty and fame attracted a lot of admirers. The blonde beautiful female athlete chose famous Spanish singer Enrique Iglesias out of all the many suitors for her hand and heart. The marriage turned out to be successful and happy: Anna and Enrique have three children and have been living a soul in the soul for over 20 years.
2. Dorothea Wierer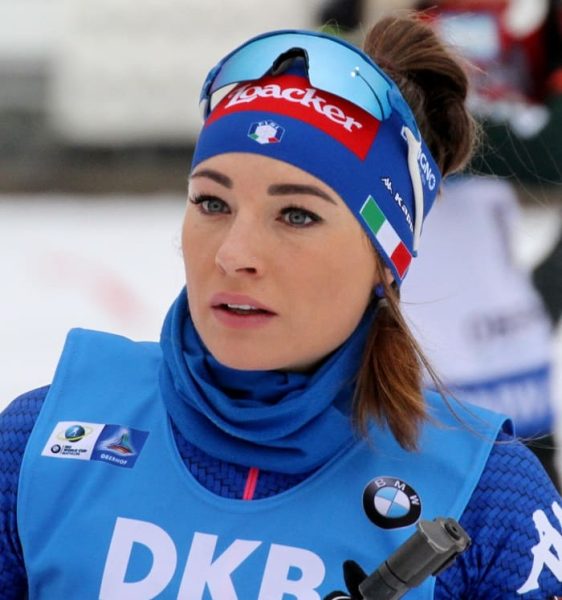 Italian biathlete Dorothea Wierer is a three times world champion and a very beautiful, attractive woman. She has been involved in biathlon since the age of 10, and her road to success has not been easy, alternating between glorious victories and defeats.
She won her first major victory when she was 16, winning silver at the Junior National Championships. The year 2019-2019 was her most successful: she managed to win a landmark award, the Big Crystal Globe.
Despite being regarded as one of the most beautiful women biathletes, Dorothea is not happy with her body shape. She doesn't like the fact that she has become too muscular as a result of her sporting activities.
Her personal life is going great: she is married and plans to have as many as five children. Her husband is 12 years older than Dorothea. He is also related to sport, but not an athlete, but a technical manager. The couple got married in 2015, four years after they met.
3. Alica Schmidt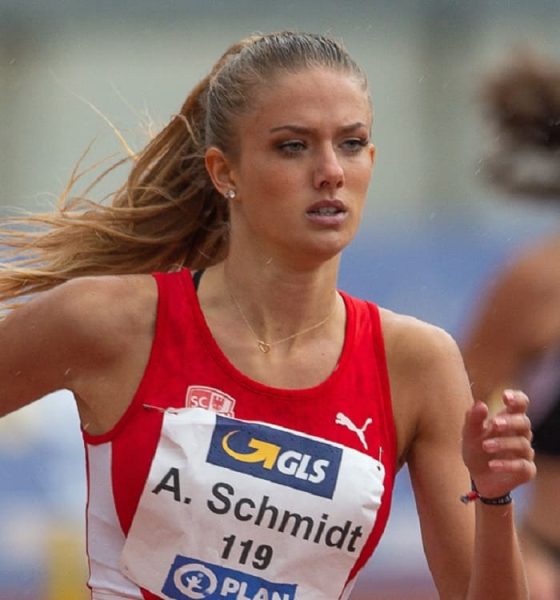 German track and field athlete Alica Schmidt dreamed of becoming a famous and beautiful female athlete since childhood, and already at the age of 6 she started to train actively, preparing for her future career.
Her dream was destined to come true: in 2019 she became a bronze medalist of the European Championships in running. In 2020, Alica took part in the Olympics held in Tokyo, but this time fame and victory passed her by. She was a member of the German national team, but remained a substitute.
Despite the fact that the athlete is still very young, her name is known not only in Germany, but also outside the country. Thanks to her modelling looks, Alica Schmidt is considered one of the most beautiful female athletes in the world.
What's more, sport is not her only source of income. She has managed to land a lucrative contract with the sports firm Puma, as well as a major dietary supplement company. She may not be married yet, but she has no shortage of suitors.
4. Tay Clark

Follow us on Facebook

Subscribe to our Pinterest

Watch our YouTube videos
Australian track and field beautiful female athlete Tay Clark's career is still at an early stage, but she's already world-famous. What's more, it's not her sparkling athletic performance that has made her famous, it's her good look.
TOP-7 most curious facts about aboriginal women in Australia
According to American magazine Busted Coverage, Tay has been voted number one among the best looking female athletes, sharing the top spot with Alica Schmidt of Germany. Tay regularly posts photos of herself on her social media sites and lets her fans see her looks.
Professionally, though, Tay Clark is also something to brag about. At 16, she took part in the Junior Olympics and won a silver medal. Despite her youth, the beauty already has her own brand and plans to set up a foundation to financially support promising young athletes. Tay is not thinking about a serious relationship or marriage just yet.
5. Maria Sharapova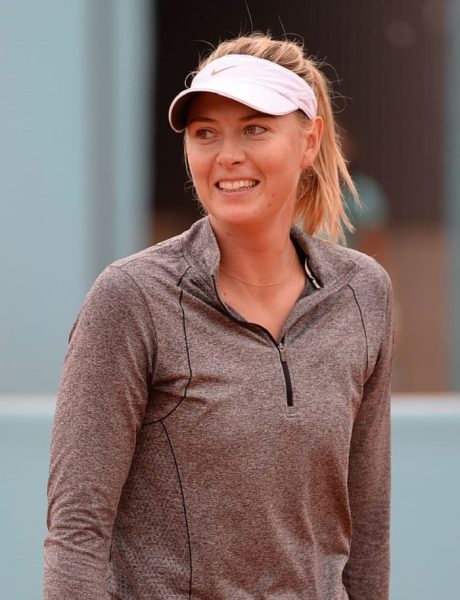 Former world number one tennis player Maria Sharapova has Belarusian roots – her parents were born in Gomel, but moved to Russia just before the birth of her daughter.
When the girl was 8, her father took her to study in the USA, in Florida. In order to pay for Maria's studies, he grabbed any job, even the lowest-paid. She won her first major victory at the age of 13 when she beat older girls at the International Junior Tennis Championships and was awarded the Rising Star Award.
In early 2020, Maria Sharapova officially announced that she was retiring from big sports. In addition to her athletic career, the acknowledged beautiful female athlete has been actively involved in charity work: she was a UN Goodwill Ambassador, founded a foundation that provides assistance to Russian, Ukrainian and Belarusian students living in areas affected by the Chernobyl nuclear power plant.
Maria had no luck in her personal life for a long time, but in 2017 she finally met a man she decided to tie her fate with – he turned out to be a British businessman Alexander Mark Heming Gilks.
6. Winifer Fernandez
Dominican volleyball player Winifer Fernandez has become a household name by posting photos and videos of herself playing or training on social media. The black-haired, brown-eyed beauty with an excellent, trained figure immediately gained a mass of fans.
In 2017, a major Salvadoran newspaper named her the most beautiful and sexy female athlete. At the same time, however, Winifer has kept her personal life carefully hidden and does not publish photos with suitors.
However, the beauty can be proud not only of her striking appearance, but also of her successful career. She started playing volleyball at the age of 10 – that is, since 2005. To date, she has won quite a few sporting awards.
But participation in competitions is not the only source of income for Winifer. On her social media, she advertises various products and sports goods, which brings her a lot of money. A conservative estimate suggests that she has already made $2,000,000 from sports and business.
7. Stephanie Rice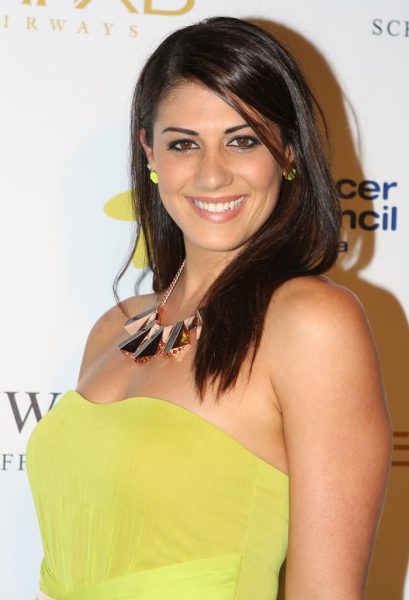 Stephanie Rice is an Australian athlete and not only a renowned swimmer who has made a brilliant career in swimming, but also a very beautiful female athlete and colorful woman.
However, her gorgeous figure is not only a gift from nature, but also the result of regular exercise. She won her first major victory at 19 with a bronze medal at the Commonwealth Games in Melbourne. In just three years in the big game, she won three gold medals and set three world records.
When Stephanie turned 25, she announced she would not be competing anymore. The reason was her health: she had overloaded back and lower back pain.
Little is known about the beauty's personal life. She's not married yet, has no children. At one time, her fiancé was a famous swimmer champion Michael Phelps, but after some time the unpredictable Australian girl broke off with him.