Juventus football players get everyone's attention not only by demonstrating their talent, but also by dating and living with gorgeous girlfriends and wives. Here are some cases from that regard.
1. Roberta Sinopoli
Juventus was the only club which Claudio Marchisio played for. He spent 25 years in this Turin club. In private life he is also a monogamist.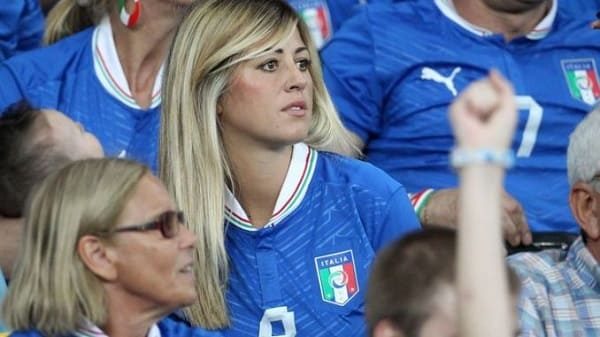 Claudio has known Roberta Sinopoli since school. They got married in 2008 when they were both 22.
The main obstacle to their relationship was their opposing predilections. Roberta's father had studied at the Academy of Torino, and his daughter was therefore the fan of Bianconeri's sworn enemies.
One year after their marriage, Roberta presented Claudio the first son, David. Three years later, Sinopoli gave birth to one more boy, named Leonardo.
It's not unusual for Roberta to communicate with the fans of the "old signora" on social networks. Some of Juventus fans accused her of being biased when Roberta posted a photo with the phrase implying that her husband had been unfairly treated by his coach.

Follow us on Facebook

Subscribe to our Pinterest

Watch our YouTube videos
2. Carolina Bonistalli
At the World Championship 2014 the Italian national team didn't even manage to make the playoff, but one of its members, namely, Giorgio Chiellini became the most recognizable participant of the Mundial.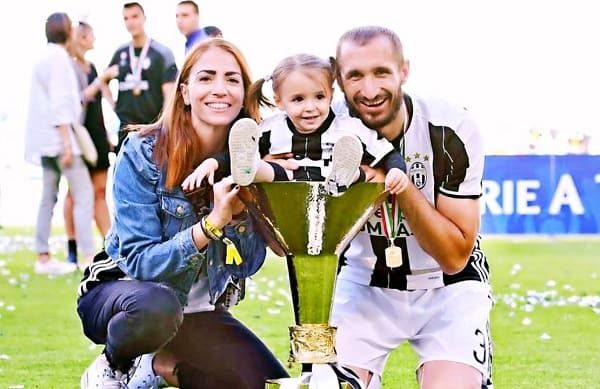 He became world-famous for a scandalous incident, during which he was bitten by a Uruguayan Suarez who was subsequently fined 82 thousand dollars for his act.
After that, Chiellini returned home and decided to organize his private life.
He proposed to his girlfriend Carolina Bonistalli and walked her down the aisle. About 250 guests as well as almost all the players of Juventus gathered at the wedding ceremony which took place at the Catholic Church in Livorno.
In July 2015 Carolina had a daughter named Nina.
3. Maddalena Nullo
A Juventus defender, Andrea Barzagli is 37 years old, but it doesn't prevent him from being a major player of one of the best football clubs in the world.
Moreover, he has a very beautiful wife, Maddalena Nullo. She got acquainted with Andrea at the Christmas parade in Florence in 2004.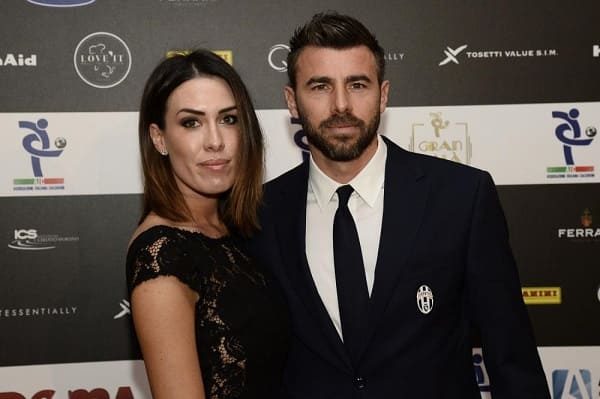 Barzagli was on leave and came to see the show. Maddalena was one of its participants.
She was a model then, and her future husband wasn't a football star yet.
At the first year the couple just hung out, but soon Andrea realized that he couldn't live without Maddalena, and they started a serious relationship.
Where the most beautiful European women live: TOP-10 countries
The family has got two gorgeous children, Mattia and Camilla.
In spite of the fact that they have been together for a long time, the couple got married only in 2013.
Maddalena is the main fan of her husband. The woman always attends the  games Andrea participates and roots for his team. She even wears a t-shirt which says his name at the stadium.
Nullo abandoned her career as a model and devoted herself to the family. She raises children, keeps a household and cooks well.
Barzagli says that Maddalena is the model of a good wife. He is convinced that he wouldn't have achieved much, if it hadn't been for her support.
4. Martina Maccari
A Juventus defender Leonardo Bonucci and a former Italian model Martina Maccari got married in 2011 and currently raise two children. However, when they first met Leonardo couldn't be expected to this turn of events.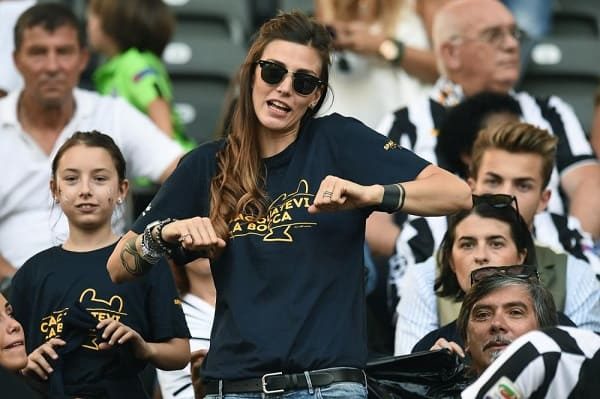 "During our first encounter Leo was the exact opposite of what I had expected from him. At that time it seemed to me that he wasn't my type. Nevertheless, we started dating and then moved in together. Leonardo is more lenient at home than on the football field", Martina confessed.
Their family was forced to withstand the test when the police questioned her husband about the participation in match fixing.
"It was a difficult period", Martina recollects. "Even though we know that he is innocent, we are still worried about his career. It was hard for us to hear accusations from other people, but we have nothing to hide. That's why we gave testimony."
5. Valentina Baldini
Valentina is precisely the reason Andrea Pirlo left his wife, who he had lived 12 years with and had 2 children. He decided to trade a stable family relationship for an uncertain future with a new lover.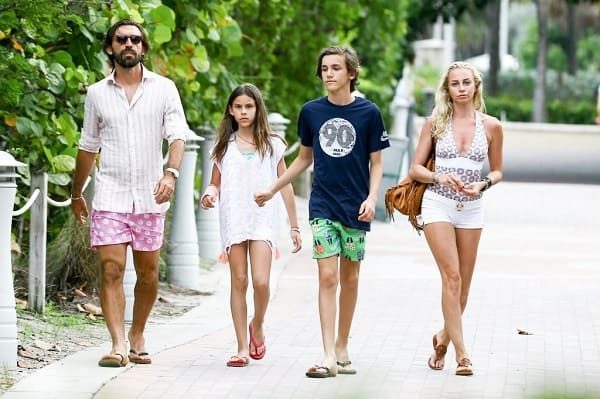 They met in an elite golf club in Turin. A gorgeous blonde who had friends in high places of Turin and was famous for being a successful real estate agent immediately attracted Juventus player's attention. A chance encounter developed into an affair.
Andrea's wife didn't forgive the betrayal and the couple divorced. Just a year after that Baldini and Pirlo vacationed in the open in Miami. And in 2017 they had twins. Andrea's children from the first marriage stayed under the custody of their mother.
6. Federica Nargi
This young beauty is a former "Miss Rome" and the girlfriend of a Juventus player Alessandro Matri. They met at an ordinary party when Federica didn't know that her suitor was a professional football player. Nargi gave him her phone number and Alessandro tried to conquer the beauty during 4 months. And then they started dating.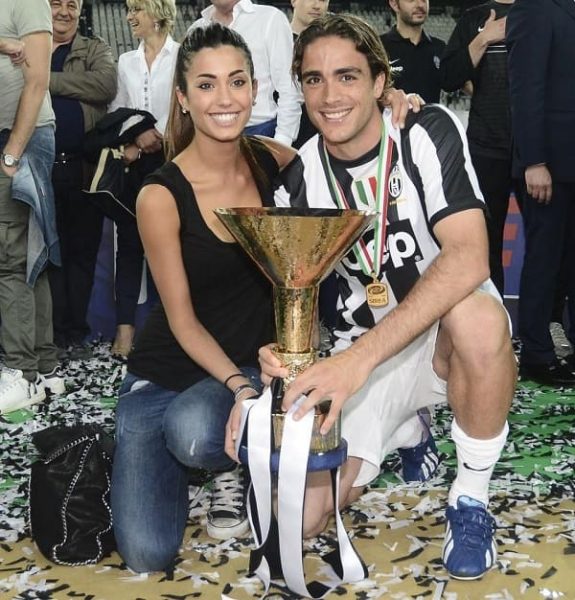 When she watches a football game, she often screams like a crazy person when Alessandro scores a goal, and scares neighbors who come running to her apartment to ask if everything is ok.
She considers her boyfriend is a simple, humble and well-brought-up guy, and he is her exact opposite.
Federica owned the title of the most beautiful girl in Rome at the age of 17 and became a host of a popular TV show.
7. Ilaria D'amico
A new love of a Juventus goalkeeper Gianluigi Buffon is an Italian TV hostess and the journalist of a sport newspaper named Ilaria. She is 5 years older than her sweetheart.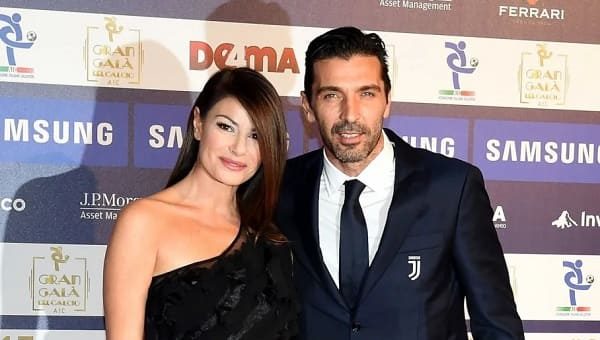 When Buffon fell in love with D'amico he destroyed his 8-year-old marriage with a model Alena Seredova. Ilaria also split up with her partner she had got a child with.
By the way, before Ilaria met Buffon, she had been romantically linked to Filippo Inzaghi as well as Giorgio Alfieri.
Moreover, she stars in music videos and is friends with Monica Bellucci.
In the summer of 2017 the couple went on vacation to Italy after Juventus had lost to Real in Cardiff. The hot images of that weekend have been feasted upon by the media quite some time.
Nevertheless, Buffon himself prefers not to comment on his private life and devotes his interviews to football.
Do you like football players' wags? What do you think about Juventus and its playing? Write in comments, please!