Soccer is a potentially traumatic kind of sports. That's why it's believed that this is no place for women. But the hottest female soccer players don't think so…
Jonelle Filigno
She first came to prominence when she was a member of the junior team of Mississauga (Canada). Her remarkable progress contributed to her making a national pool. Then Filigno joined the Under-20 national team where she quickly earned a title of the best player of the past year.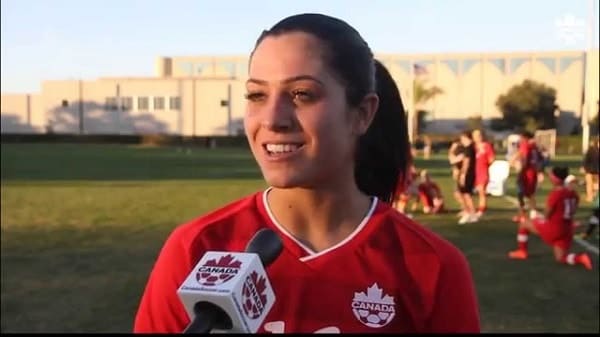 Jonelle is not only ranks among the hottest female soccer players, she in addition belongs to intelligent girls. The soccer player went to Rutgers University and obtained a degree in exercise science.
Then Filigno moved to a senior national team of Canada. During a match against the British team at the Olympic Games of 2012 Jonelle scored a winning goal.
This allowed the Canadians to make the semifinals and win a bronze award, which became the best result in the history of women's soccer in this country.
In 2015 Jonelle got engaged to Russel Hopkins, with whom she had got acquainted when at university. Russel gave her a ring on Valentine's Day. (And Filigno posted its image on Instagram just like NFL wives).
Anouk Hoogendijk
Anouk got famous at the age of 12 when she took part in a Dutch TV show called "Never Give Up". She first became the member of the Saestum team.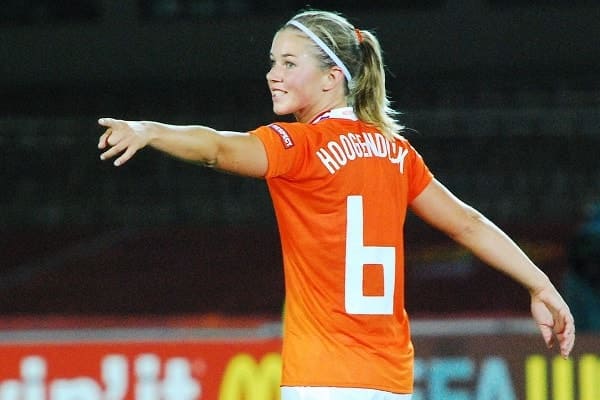 Nevertheless, one of the hottest female soccer players always dreamed of playing for the "Utrecht" football club. And in 2007 she finally made a deal with this club at the beginning of Dutch for Honor Division.
Anouk also seized an opportunity to realize her potential as a soccer player abroad. That's why she joined the Bristol Academy club in 2011 and signed a contract with Arsenal Ladies in 2014.
She represented the Netherlands at the female World championship and Euro tournaments.
She has been engaged in Nike advertising campaign since 2009.
Lauren Sesselmann
The next lady on the list of top 10 female soccer players is an American. Lauren grew up in Wisconsin (USA). She began to play basketball as well as soccer at high school.
Sesselmann obtained a degree in marketing at Purdue University, and Lauren managed to put it to good use. She has released DVDs containing the videos of soccer tips and tricks for beginners. Lauren also promotes her products on her blog and a website.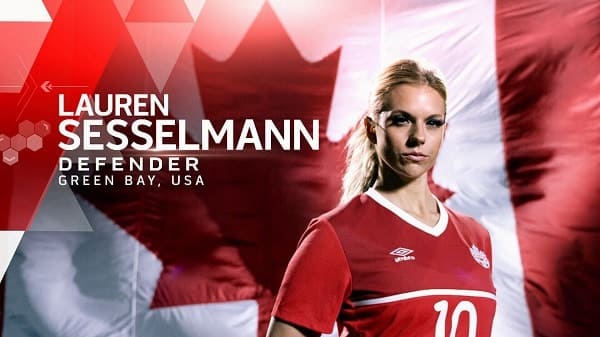 Due to her father's Canadian origins, Sesselmann managed to obtain the citizenship of this country in 2010. In 2011, she already was a member of the national team of Canada, and then took part in the Olympic Games taking place in 2012 where Canadian players came third.
Wanna dating an American woman? 11 weird facts you must know!
In March 2014 Sesselmann fell down during training and tore her anterior cruciate ligaments which forced her to interrupt her career. In 2015, she rejoined her team and took part in the female World championship.
Kosovare Asllani
Let's continue to make acquaintance with women's soccer top players and let us introduce Kosovare Asllani.
Her parents moved to Sweden from Kosovo with their two kids in 1988. A year after the moving, Kosovare was born.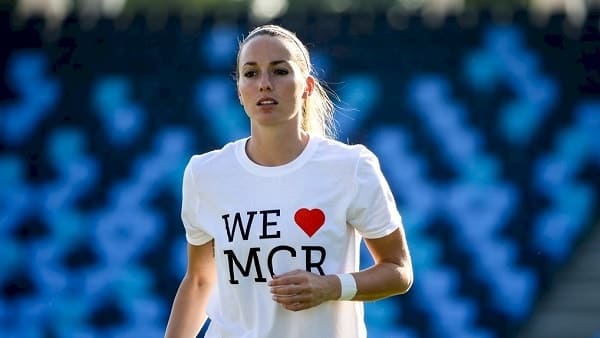 Female soccer was considered to be the sport of fair-skinned middle-class Swedish women. But this girl proved that female soccer players whose parents' descent lies outside this country can steal the show.
In 2008 Kosovare joined the Swedish soccer team at the age of 18.
Swedish media often call her "female Zlatan Ibragimovic" because of her outstanding achievements, Balkan origins and frankness. Asllani is perceived as a role model for immigrants who live in Sweden.
In 2016 Kosovare signed a contract with Manchester City.
She played for the Swedish team at the 2016 Summer Olympic Games, where they earned a silver award.
Julia Simic
This one of the hottest female soccer players was born in Fürth (Germany) in 1989. Julia was raised in the family of mixed origin. Her father is a Croatian and mother is a German.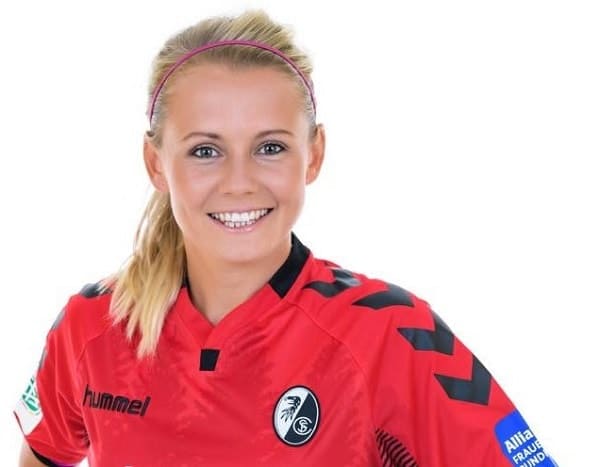 She debuted in junior national teams. Then Simic joined National A-team, but she wasn't lucky enough to play for it due to injury. After recovery, Julia returned to the Bundesliga and tore the ligaments in her left knee once again.
"During that period I realized that I needed to work not only on my body, but also on my head," Simic recalls.
From 2005 to 2013 Julia was a member of the Bayern Munich team.
Julia ranks among the winners of 2012 DFB-Pokal (German Football Cup) and the 2014 DFB-Hallenpokal (German indoor soccer competition).
Toni Duggan
She is a British sportswoman who was born in Liverpool and was fortunate to get into the roster of the hottest female soccer players. Toni started her career on an Under-8 team.
In 2007 at the age of 15 she began to play for the Everton club. In 2010 Toni contributed to Everton's victory at the Football Association Challenge Cup. In her last season in this club she became the player of the year.

Follow us on Facebook

Subscribe to our Pinterest

Watch our YouTube videos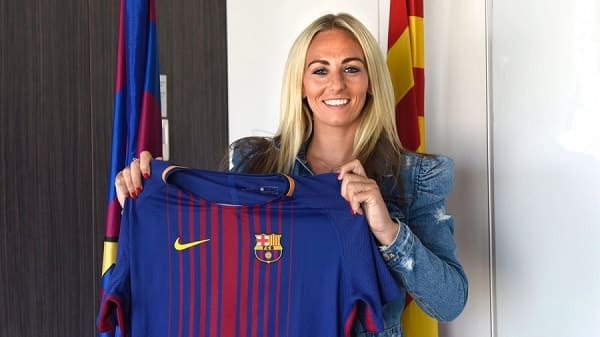 In 2013 Duggan made a deal with Manchester City. In 2014 Duggan helped the England national football team to become the leader of a qualifying group at the World championship.
Where the most beautiful European women live: TOP-10 countries
Toni was involved in a scandal when she, as a member of Manchester City, spent the evening with the manager of Manchester United – a team which had defeated Manchester City that day.
Manchester City fans were furious, and Toni was forced to make excuses.
Alex Morgan
In 2009 Alex joined the national team of the United States.
Interestingly, she doesn't fear to fight for equality. Alex together with four other women's soccer team players once filed a lawsuit against salary discrimination. They were suing the Soccer Federation of their country. The point was that female soccer players' wages were about a quarter of male players' ones.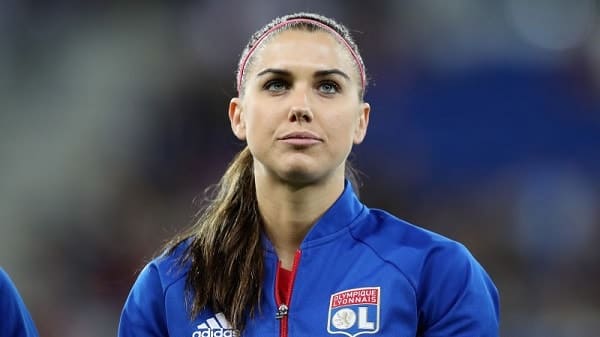 She published a series of books for the readers of middle school age, which became very popular among children. In those books she tells about soccer, the importance of empowerment as well as teamwork.
Alex loves  speed and even has a motorcycle license.
She posed for the Sports Illustrated Swimsuit magazine. Her image looked as if she was dressed in a bikini, but actually the bikini was drawn on her body.
Adriana Leon
Adriana Leon also belongs to the hottest female soccer players. She was born in Mississauga (Canada) in 1992.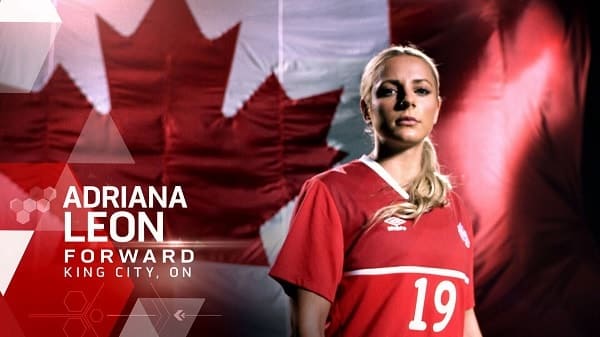 Before Adriana became a soccer player, she played hockey and used it to her benefit afterwards – her great physical attributes came in handy on the front line of a soccer field.
From 2010 to 2011 she was the player of the University of Notre Dame.
Adriana managed to input her name in the history of this university, having scored a winning goal during the match of the national championship in 2010 which let her team earn its third NCAA title.
She debuted in the Canadian national team in 2012.
In 2013 Adriana signed a contract with Chicago Red Stars.
Nayeli Rangel (became one the hottest female soccer players at the age of just 17)
Nayeli was born and grew up in Mexico. When Rangel was playing for the Under-20 national team of her country, she was appointed as a captain at the age of 17 in 2009. During participation in the 2010 World championship, Rangel headed her national team as well. She contributed to her team's reaching the quarterfinals.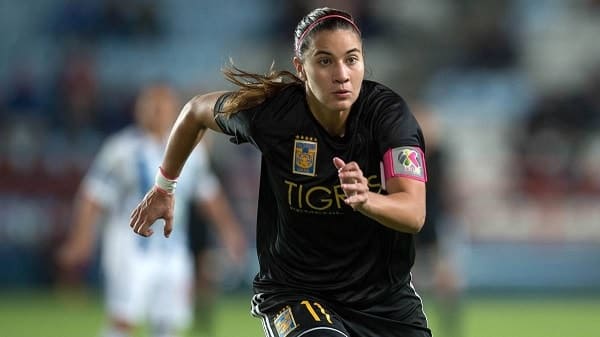 At the 2012 World championship, Nayeli also did a great job which nearly helped Mexico to get into the semi-finals.
Where the Most Beautiful Latina Women Live: TOP-10 Countries
Nayeli also provided input to the Mexican biggest victory in history when they defeated the United States in 2010.
Mostly she plays in her home country, but since it's quite uncommon to see rich female soccer players in Mexico, Rangel decided to play for U.S. clubs. That's why Nayeli also was the member of Sky Blue club (New Jersey) which she made a deal with in 2013.
Sydney Leroux
Sydney comes from Surrey (Canada) and she is a girl of mixed origins. Both of her parents were professional sportsmen. That's why Leroux decided to become one of women in sport.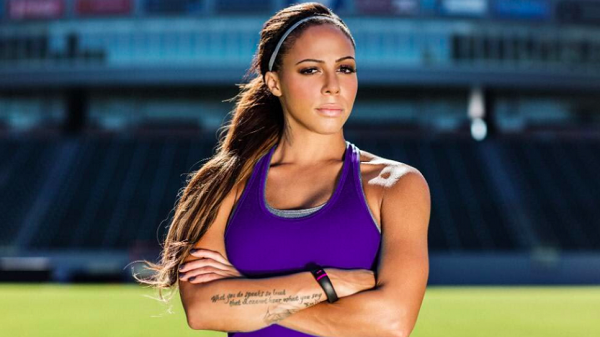 Leroux moved to the U.S. when she was 15 in order to become one of the U.S. women's soccer players. Sydney initially played for "Boston Bruins". In 2012, she swelled the ranks of the U.S. team.
Leroux contributed to the victory of the U.S. team at the Olympic Games taking place in 2012.
Leroux is married to the player of Major League Soccer Dom Dwyer with whom she had been in relationship since 2014.
Sydney has a lot of tattoos devoted to her mother. According to the sportswoman, there is a special bond between them.
Do you like to watch women soccer? Write in comments, please, or send us your own story!