It's hard to believe that not only men became pirates. Women pirates were also engaged in such "business". We have compiled a list of 10 most cruel mistresses of seas so that you make sure it's true.
Sayyida al Hurra
She was born around 1485, but nobody knows the exact date of her birth. Sayyida belonged to a prominent Muslim family which lived in Granada. Her family was displaced in 1492 during the Reconquista of Christian Spain. They moved to Morocco. After her husband died, Sayyida served as the governor of Tetouan. Due to her post, this femme fatale was able to meet and become a Moroccan king's wife afterwards.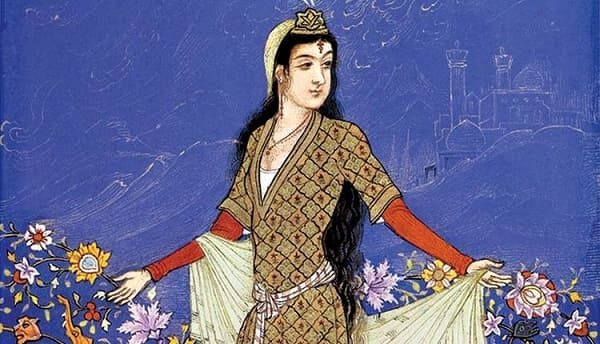 Because of her anger toward Christians who forced her to leave her homeland, Sayyida made up her mind to become one of the women pirates. The hijacking of Christian ships generated good income and kept her dream about going home alive. Sayyida was firmly established as the queen of the Mediterranean Sea.
As a result, she turned out to be the main negotiator with the governments of Spain and Portugal when they tried to liberate the prisoners who had been captured by the pirates.
In 1542, she was overthrown by her own son-in-law. Her further fate remains unknown.
Teuta of Illyria
Very few people had the courage to compete with the powerful system of Rome. But there was one of women in history of Europe who managed to take it down a peg. This woman's name was Teuta of Illyria.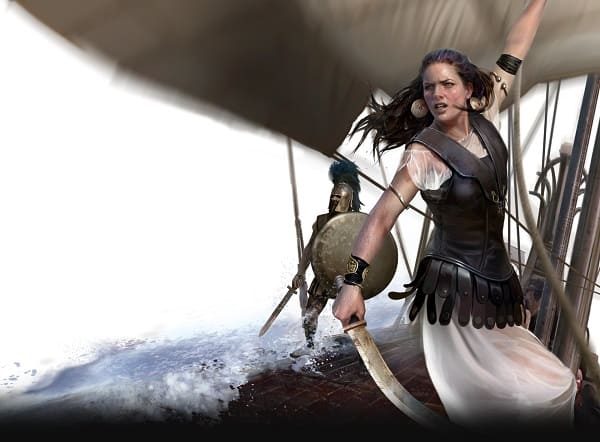 When her husband and the King of Illyria died in 231 BC, she gained the power of the kingdom and decided to support pirates first thing, because neighboring countries behaved aggressively. Due to the queen's support, pirates managed to capture the city of Dirrahia and carry out attacks on the merchant ships of Rome and Greece.
In 229 BC, Rome declared war on the pirates of Illyria, and they were forced to surrender. Teuta was forbidden to have her own fleet, but she wasn't forbidden to reign.
Anne Bonny
Anne Bonny was an Irish. She was born around 1700. After her family moved to the New World, she married a pirate, James Bonny. Anne's father couldn't bear it and decided to abandon his daughter.
She was forced to move to the Bahamas where she met Jack Rackham who was the captain of a pirates' ship called "Revenge". They became lovers and after her divorce from James and marriage to Jack she also became one of the female pirates on his ship.
Due to her help, they captured a lot of ships transporting tea. For Englishmen, it was too serious problem. They didn't want to remain without tea. That's why the governor of Jamaica instructed captain Jonathan Barnett to solve this issue.
Bonny tried to hold the enemy as long as possible, but most of the pirates were dead drunk and their ship was captured. Rackham was executed and Bonny disappeared.
Jeanne de Clisson
Jeanne was born in 1300 in Brittany (France). At the age of 30 she married Olivier III de Clisson. As a rich nobleman, he protected Brittany from the attacks of Englishmen, but after losing he decided to cross to their side. In 1343, he was taken prisoner, brought to Paris and executed according to the order of king Philip VI.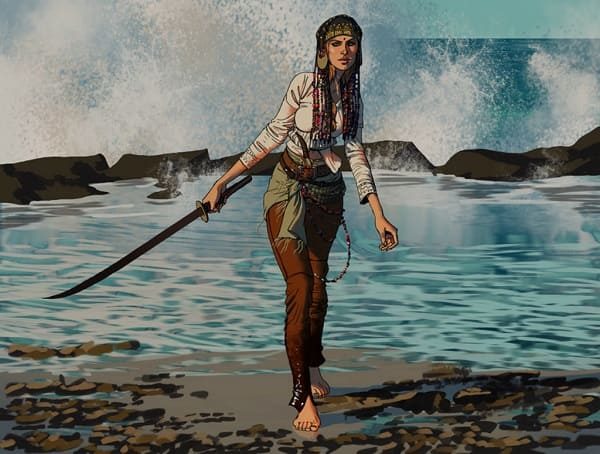 Jeanne took an oath in anger that she would get back at him. She sold all her property and bought three warships and went hunting the ships of the French king. Being one of the most cruel women pirates, she destroyed them mercilessly including the entire crew except several sailors who were mandated to give messages to the king.
Even after king Philip VI died in 1350 Jeanne didn't stop attacking French ships.
Ching Shin
Among Asian women there was someone who held at bay the entire sea of China in XIX century. Her name was Ching Shin. Little is known of her origin. What we do know is that she worked as a prostitute in Guangzhou.
In 1801, she was captured by pirates and married their captain and consequently became a pirate too. In 1807 her husband died, and she assumed responsibility of the captain. Her armada threatened even The Admiralty of Britain!
Chinese fleet lost more than 60 ships during the confrontations with the pirates. Only that circumstance forced Chinese authorities to propose them an amnesty in 1810. The pirates agreed to the terms of the authorities.
Anne Dieu-le-Veut
She was kicked out of France to Tortuga for crimes in 1665. Anne met a pirate, Pierre Lengt there and married him. In 1683 her husband was killed at a bar by Laurent de Graff, who was also a pirate.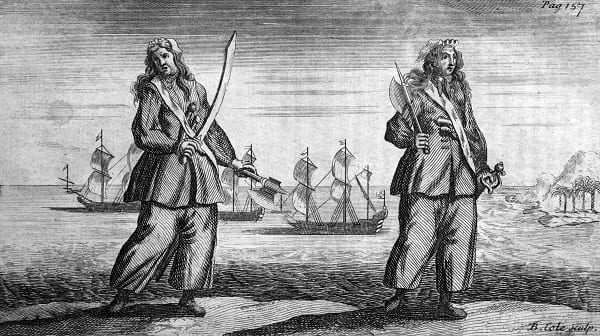 Anne as one of brave women challenged him to a duel in response. The pirate didn't agree to fight a woman, but he was impressed by her courage and asked her to marry him. Anne said yes. They went to sea together, hijacking boats and in 1693 even raided Jamaica. As a result of British raids on Tortuga, she was caught with two of her daughters.
Due to a respectful attitude towards the British, Anne was able to be reunited with her husband Laurent in 1698.
Grace O'Malley (ranks among the women pirates who attacked nobles)
Grace was born in Ireland in 1530. Her father was the leader of a sailor's clan named O'Malley. Grace inherited her father's business and became one of the women pirates.
She collected the tribute from fishermen who were fishing in the territory belonging to her clan. She chose ships and demanded money or cargo. And in return, she promised safe passage. In case of their refusal, murder and violence took place. Grace wasn't afraid to attack the nobles of Scotland and Ireland and even abduct their children.
Lady Elizabeth Killigrew
Elizabeth was born in 1525. In XV century King Henry built the Pendennis Castle on the land of her husband and that was when she became a representative of female pirates and started to control shipping in that area. Killigrew exploited their situation to hunt the cargo of ships reached the areas of their control.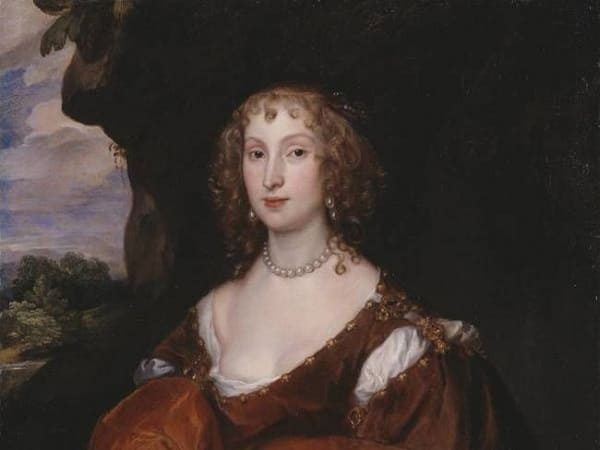 After her husband's death in 1567 Elizabeth headed the pirates. In 1582, she was caught because of the attack and capture of a Spanish cargo ship, but Queen Elizabeth pardoned her.
Christina Ann Skytte
She was born in 1643 in Sweden in the family of a baron. Her brother Gustav Skytte was an adventurer who didn't even care about the fabulous wealth of his family. Since 1657 he had been pirating and robbing ships in the Baltic Sea. Christina and her groom Gustav Drake became his business partners.

Follow us on Facebook

Subscribe to our Pinterest

Watch our YouTube videos
Once, they even killed one of the pirates because he wanted to leave the business. In 1663 Christina took part in an attack on a Dutch merchant ship. The whole crew was killed, and their cargo was captured. As a result of the attack, her brother was caught and executed, and she was forced to flee.
Jaccottet Delahaye
Jaccottet was born in Haiti. Her father was a Frenchman. Jaccottet's mother died during the childbirth of her brother. Then, her father was killed, having left a small amount of money for her and her brother.
Jaccottet took care of her brother and decided to become one of the female pirates in the Caribbean. In 1660, she was forced to fake her own death to evade the authorities. For years, she had been living in the image of a man. Then she went back to her business. Supposedly, she pirated together with Anne Dieu-le-Veut.