There are the strongest women whose force greatly exceeds men's strength. Let's check out top-7 of them.

7. Aneta Florczyk
Aneta is a Polish athlete, born in 1982 in Poland. She started to lift weights at the age of 16. Her first kind of sport was powerlifting. Having become the winner of a Polish championship, in 2000 Florczyk earned the title of a European champion.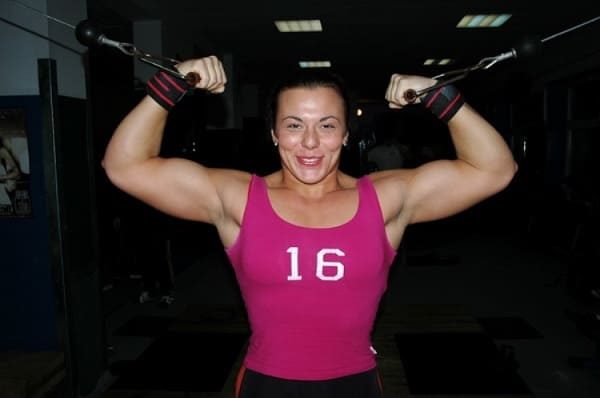 In 2002, she began to participate in the competitions of the strongest women. Since then, her name has become widely known among the admirers of this sport throughout the world.
Aneta set her most famous record at a very unusual competition where strong women raised adult men over their heads. Having kept them at arm's length for some time, the females threw them away.
Florczyk managed to lift and push back 12 men for 2 minutes. That was the official world record which made it to the Guinness Book of World Records.
She also takes part in various TV-shows. On one of them, Aneta set a record for the twisting of frying pans. She twisted 5 items for 1 minute.
Aneta also participated in a popular show called "Dancing on the Ice".
6. Varvara Akulova (one of the strongest women who started training as soon as she was born)
Varvara is a 26-year-old Ukrainian woman from the city of Krivoy Rog who once got into the Guinness Book of World Records as the strongest girl in the world. At the age of 4 she took part in powerlifting competitions for adults, and when she was 10 Akulova could hold a platform with 10 grown men weighing 700 kilos.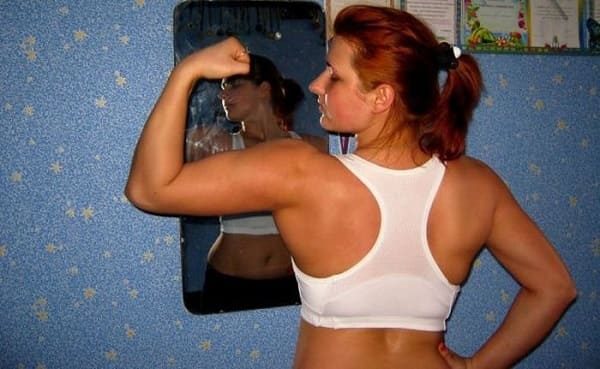 She was born in the family of a circus artist and a teacher. Her father dreamed to raise Varvara into a champion powerlifter. A girl got used to power load from the age of two weeks when her father tied metallic nuts to her hands.
Now she doesn't rank among women in sport. Varvara went out of sport after her graduation from university and now works as a fitness trainer. She gave up the dream of taking part in the Olympics because she considers that it's impossible to win a medal in weightlifting without doping.
"I don't use steroids. That's why I weigh 75 kilos and not 120, I don't grow facial hair, and my voice doesn't change. I don't want to turn into a man, since I'm a girl." – says Varvara.
5. Elena Seiple
Elena is the veteran of women's bodybuilding, born in 1973 in New Jersey (USA), who doesn't lose ground to this day. Seiple's enormous capacity for work and her irresistible charm made her the favorite of millions of people and a true sport icon.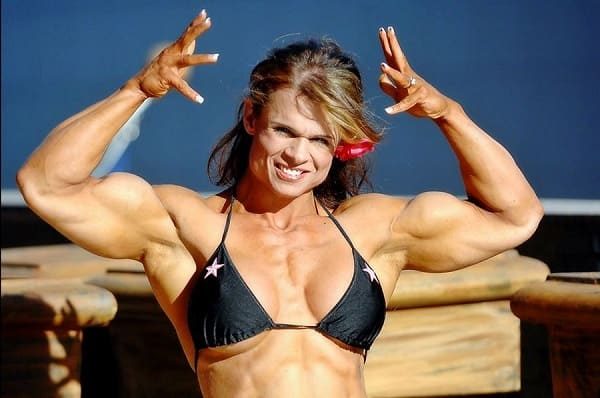 Elena started to train at college when she was involved in football and basketball and planned to become a professional football player. Nevertheless, she discovered the world of bodybuilding.

Follow us on Facebook

Subscribe to our Pinterest

Watch our YouTube videos
Wanna dating an American woman? 11 weird facts you must know!
Seiple started to take part in lightweight championships in 1999. After long training in 2003 she reached shape suitable for participating in middleweight competitions.
Now she continues to train and says that workouts make stronger not only her body but also mind. Undoubtedly, we give credence to her affirmation, since we don't want to verify it.
4. Becca Swanson
This 42-year-old American, who owns multiple world records for powerlifting among women, is rightly regarded as one of the strongest women on earth.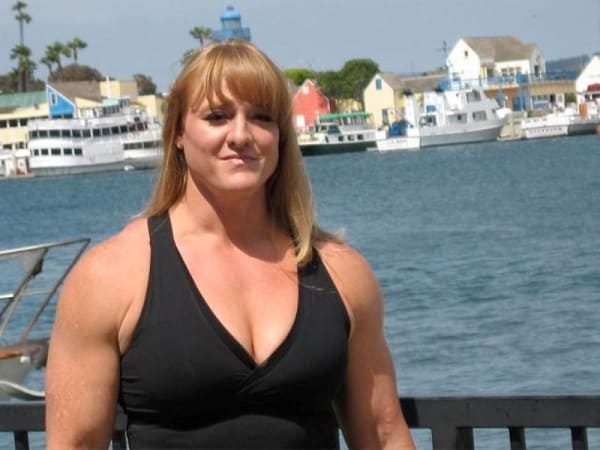 To date, Becca is the only woman in the world who managed to lift 387 kilos in the squat, 270 kilos in the pressing style and deadlifted 310 kilos.
She began her career as a bodybuilder in 1996. However, a fashion for huge masculine sportswomen passed. That's why she continued her career in powerlifting.
In 2002 Becca successfully started to participate in international contests for the strongest women. In 2010 Swanson joined "World League Wrestling" where she still ranks among top 3 leaders.
One of the strongest women possesses outstanding physical features. Becca's height is 178 centimeters, her weight is 110 kilos, the size of biceps is 460 millimeters, her shoulder width is 1400 millimeters.
In 2012, she got married and in 2013 Becca gave birth to a son, Azlan. In 2018 at the age of 42 she birthed one more boy.
3. Olga Liashchuk
Olga was born in the Ukrainian city of Donetsk in 1985. She was brought up in a sporting family. Her mother was a biathlete and a swimmer, and her father was a bicycle racer.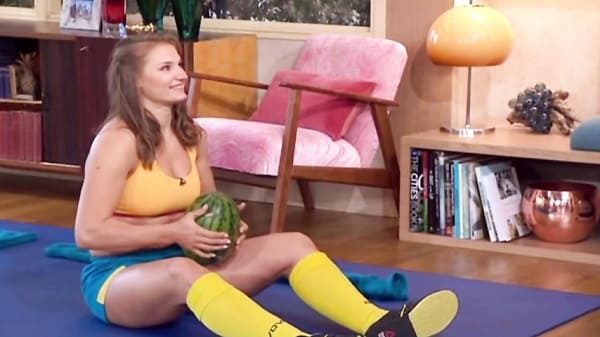 Liashchuk is not only one of the beautiful women with blue eyes, but also a European and World champion in strength athletics. In her opinion, the most prestigious trophy in her collection of awards is the bronze prize of "Arnold Classic" tournament, which is supported by legendary Arnold Schwarzenegger.
Interestingly, watermelons became the calling card of this sportswoman. In 2014 the representatives of the Guinness Book of World Records were searching for a new heroine and decided to invite Olga to Italy where she squashed 3 watermelons weighting 4 kilos with the help of her thighs for 14 seconds. A lot of TV shows dream of seeing this trick on their air.
Thus, Liashchuk became the only Ukrainian woman who got into the Guinness Book of World Records.
Olga releases her own clothing line, likes self-development and not to be dependent on sport.
2. Lindsay Hayward
Lyndsay is a female wrestler from Miami (USA), born in 1987. Perhaps she admires legend about Amazon females, since her nickname is Isis the Amazon.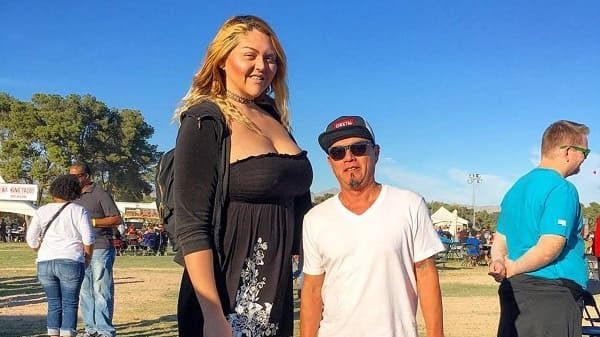 This blonde's height is 2 meters 6 centimeters. (Japanese women look like Thumbelina standing next to her) She is strong, so much that can easily raise a man weighing 100 kilos over her head and throw him to the other end of a room.
Lindsay bench-presses 320 kilos. It's more than the weight of two baby elephants. She wears 38G bra size. She mainly eats high-protein food such as red meat.
Hayward reached a height of 1 meter 80 centimeters at the age of 9. And when she was 13 Lindsay achieved her present height.
"Do you think that in my childhood, kids were afraid of teasing me because of my height? Absolutely not. I was a very shy girl and a basketball team became my family. I hated the way I looked. Wherever I went, people stared at me. I always felt better when I was near tall people, because they knew what it was like. When I started doing sports, I realized that my features were a gift. That's why I decided to become the strongest wrestler." – Lindsay recalls.
1. Irene Anderson
Irene is considered to be the strongest woman in Sweden and one of the strongest ladies in the world.
Andersen was born in 1966 in Denmark. Nevertheless, when she was 2 her family moved to the Swedish city of Malmö.
Irene has been into sports since childhood. She did jazz-ballet and judo. At the age of 15 she visited a gym, headed by her friend. Simultaneously, Anderson did Muay Thai and kickboxing.
Her professional debut took place in 1993 when she was already 37. In 2003 Irene ranked first at "Lucia Classic" competition.
A real zoo is gathered at Anderson's home, consisting of two snakes, lizards, parrot, cat and a couple of dogs.
Despite her active life, Irene doesn't forget about her family. She is a mother of 3 children, and she brings them up alone.
Apart from sport, Anderson is keen on drawing. Irene considers it her duty to help beginner sportsmen and periodically releases the videos of professional workouts.